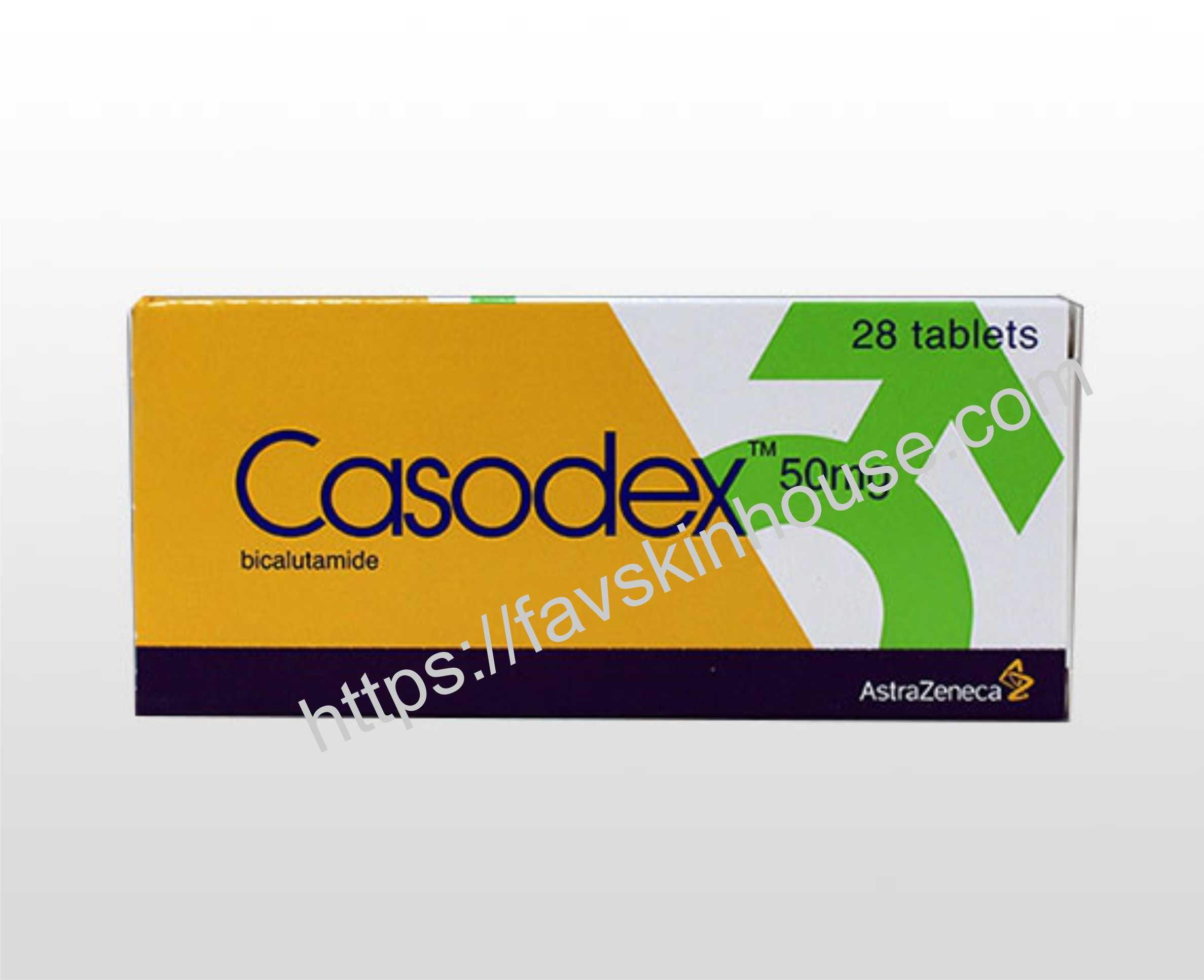 Casodex 50mg (Bicalutamide) 28 Tablets
Price $58
Casodex 50mg (Bicalutamide)
1 box contains 28 tablets
Each tablet contains 50 mg of active ingredient bukalutamid.
Each tablet contains several active components which contribute to the production. They are lactose, magnesium stearate, hypromellose, macrogol 300, povidone, sodium starch glycolate and titanium dioxide.
Kazadeks belongs to a group of medicines called anti-androgens. That is, it prevents any action of androgens in the body.
Casodex is used for treating prostate cancer.
BEFORE YOU TAKE YOUR MEDICINE
Casodex should not be taken by children and women.
Do not take Casodex if you have had an allergy to it.
Do you have problems with your liver? If so share it with your doctor.
Are you taking any other medicines, including those you have bought for yourself?
Especially if you are taking oral anticoagulants, some antihistamines, cisapride, cyclosporine, calcium channel blockers, tell your doctor.
Before using Casodex consult your doctor if you are taking any other medicine prescribed or not.
Before using Casodex consult your doctor if you are taking any other medicine prescribed or not.
If you go into hospital, tell the medical staff that you are taking Casodex.
It is unlikely that your medicine can affect your ability to drive and use machines. However, some people may sometimes feel sleepy after taking Casodex. If this happens to you, caution is required.
Taking your medicine
The usual dose of Casodex is one tablet daily. Swallow the tablet whole with a glass of water. Try to take the tablet at the same time each day.
If you forget to take your medicine, take the tablet as you remember and take the next dose at the usual time. Do not take two doses at once.
If you take more than the normal dose, contact your doctor. In case of overdose, immediately contact the nearest hospital.
Even if you feel better do not stop taking the tablets until your doctor tells you to.
AFTER MAKING OF MEDICINE
- Severe shortness of breath or sudden worsening of breathlessness, possibly with cough and fever. Some patients receiving Casodex makers lung inflammation called interstitial lung disease.
- Strong skin irritation or swelling of the face, lips, tongue and / or throat, which may lead to difficulty in swallowing.
- Yellow skin and eyes. These may be symptoms of liver dysfunction.
Tell your doctor if you disturb any of the following side effects:
Very common side effects:
- Painful or swollen breasts
- Hot flushes
Common:
- Nausea
- Diarrhea
- Itching
- Weakness
Rare:
- Vomiting
- Dry skin
- Chest pain or palpitations