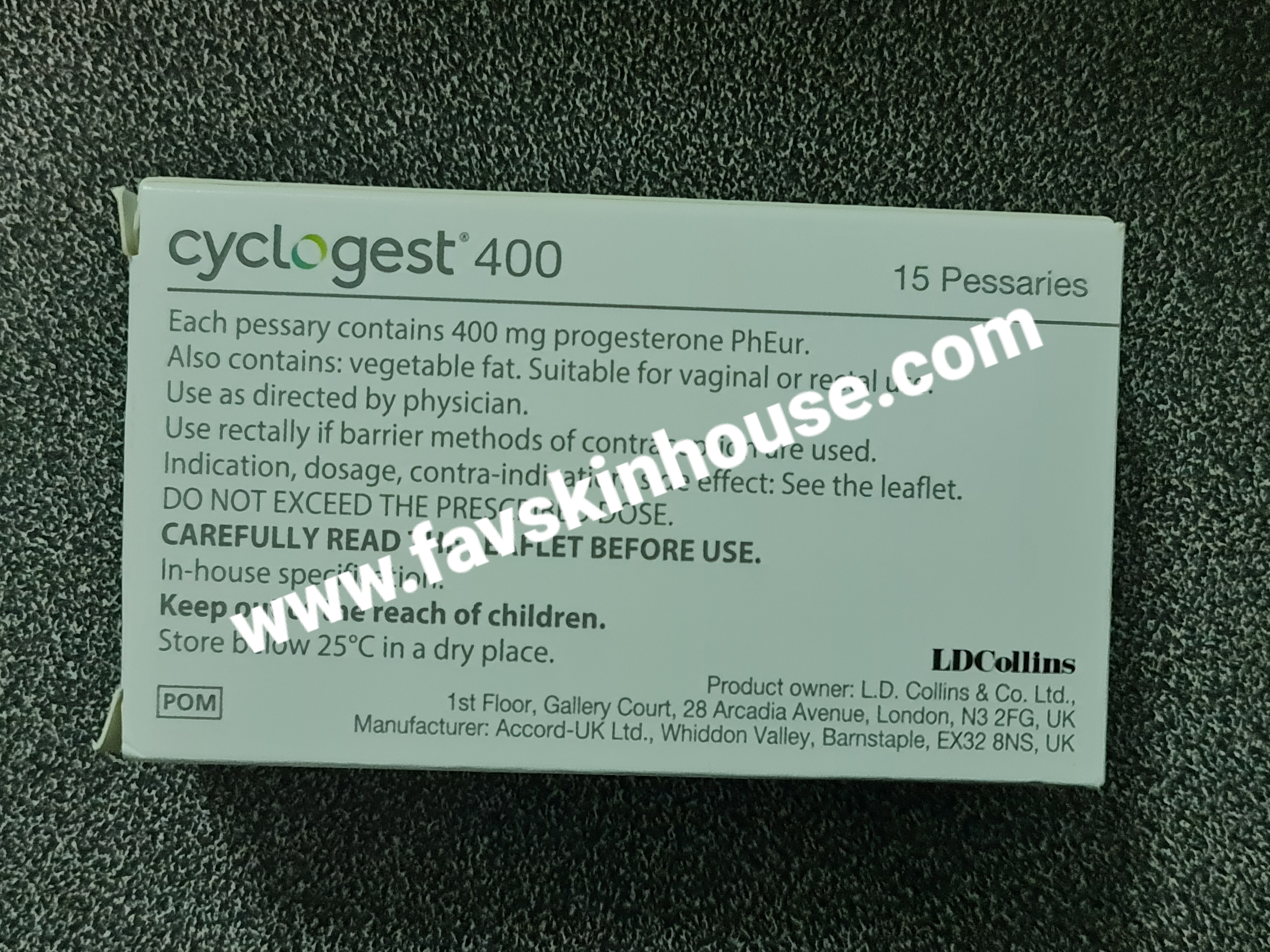 Cyclogest (Progesterone) 400 mg, 15 Pessaries
Price $36
Cyclogest (Progesterone) 400 mg,
1 Box Contains 15 Pessaries
What Cyclogest is and what it is used for:
Cyclogest contains progesterone, which is a natural female sex hormone produced by the body.
Cyclogest is intended for women who need extra progesterone while undergoing treatment to support a fertilization support program (Assisted Reproductive Technology, ART).
Progesterone acts on the lining of the uterus and thus helps you get pregnant and maintain your pregnancy when you are treating infertility.
What you need to know before you use Cyclogest:
Do not use Cyclogest:
if you are allergic to progesterone or any of the other ingredients of this medicine (listed in section 6);
if you have unusual vaginal bleeding that has not been evaluated by a doctor;
if you have an established or suspected tumor that is hormonally sensitive;
if you have porphyria (a group of inherited or acquired disorders of certain enzymes);
if you have or have had blood clots in your legs, lungs, eyes or other parts of your body;
if you currently have or have ever had serious liver problems.
if you have had a miscarriage and your doctor suspects that there is still tissue left in the uterus or you have an ectopic pregnancy.
Warnings and precautions
Take special care and tell your doctor immediately if you get any of these symptoms during treatment or even a few days after the last application:
pain in the calves or chest, sudden shortness of breath or coughing up blood, which are indicative of the possible presence of clots in the legs, heart or lungs;
severe headache or vomiting, dizziness, tiredness, or changes in vision or speech, weakness or numbness of the arm or leg, which are indicative of the possible presence of clots in the brain or eyes;
worsening of depression.
Before using the medication Cyclogest, talk to your doctor or pharmacist if you have or have ever had:
Liver problems;
Epilepsy;
Migraine;
Asthma;
Cardiac or renal dysfunction;
Diabetes.
Children and adolescents
There is no corresponding use of Cyclogest in children.
Other drugs and Cyclogest
Tell your doctor or pharmacist if you are taking, have recently taken or might take any other medicines.
This is especially important if you are taking carbamazepine (to prevent seizures, treat certain types of pain or mood swings), rifampicin (to treat infections) or phenytoin (to prevent seizures or treat certain types of pain). as they may weaken the effectiveness of progesterone.
It is not recommended to use other vaginal products at the same time as Cyclogest when administered vaginally, as it is not known whether this may affect treatment.
Pregnancy and lactation
Cyclogest can be used during the first trimester of pregnancy in women who need extra progesterone while taking treatment under the Fertility Assistance Program (ART).
The risks of congenital anomalies (diseases that are detected at birth), including genital abnormalities in male and female newborns from exposure to exogenous progesterone during pregnancy have not been fully established.
This medicine should not be used during breast-feeding.
Driving and using machines
Cyclogest has little or no effect on the ability to drive and use machines. It can cause dizziness, which is why caution is recommended when driving and using machines.
How to use Cyclogest:
Always use this medicine exactly as your doctor has told you. If you are not sure about anything, ask your doctor.
The recommended dose is 400 mg twice a day, which is given vaginally. Start using Cyclogest on the day of ovulation. If pregnancy is confirmed, Cyclogest should be continued for 38 days from the start of therapy.
How to place Cyclogest
Always wash your hands before and after placing the pessary.
To insert a pessary into the vagina, place the pessary between the lips of the vagina and push it up and back. It may be easier for you to do this if you are lying down or squatting.
If you use more Cyclogest than you should
If you (or anyone else) accidentally swallow any pessaries or use them too much, contact the emergency department of the nearest hospital or your doctor immediately.
If you forget to use Cyclogest
If you forget to take a pessary, do it as soon as you remember, unless it is almost time for your next dose. Never use two doses at the same time. Remember to use the remaining doses at the right time.
If you stop using Cyclogest
Please consult your doctor or pharmacist if you intend to stop or have stopped using Cyclogest. Abrupt discontinuation of progesterone may cause increased anxiety, mood swings, and increased sensitivity to seizures.
If you have any further questions on the use of this medicine, ask your doctor or pharmacist.
Possible side effects:
Like all medicines, this medicine can cause side effects, although not everybody gets them.
Adverse reactions in patients undergoing ART treatment are presented below:
The following side effects are common (may affect up to 1 in 10 people):
bloating (abdominal distension), abdominal pain, constipation;
drowsiness;
fatigue;
hot flashes;
chest pain.
The following side effects are uncommon (may affect up to 1 in 100 people):
headache, dizziness, mood swings;
change in taste, vomiting, flatulence, diarrhea, bloating (stomach dilation);
night sweats, skin rash or itching;
joint pain;
pelvic pain, ovarian enlargement, vaginal bleeding;
frequent urination, involuntary urination;
weight gain;
bleeding;
itching at the application site, feeling cold or a change in body temperature or general malaise.
After using Cyclogest, you may notice some leakage after the pessary has dissolved. Don't worry, this is perfectly normal when using medicines that are inserted into the vagina or rectum.
How to store Cyclogest
Keep out of reach of children.
Store below 30 ° C.
Do not use this medicine after the expiry date which is stated on the strip or carton after EXP. The expiry date refers to the last day of that month.
Do not throw away any medicines via wastewater or household waste. Ask your pharmacist how to dispose of medicines no longer required. These measures will help to protect the environment.
Contents of the package and additional information
What Cyclogest contains
The active substance is progesterone. Each pessary contains 400 mg of progesterone.
The other ingredient is solid fat.
What Cyclogest looks like and contents of the pack
Almost white, measuring about 10 mm x 30 mm torpedo pessary, packed in PVC / PE strip packages.